Get in touch
Call 1300 798 279 (from Australia)
+61 8 9251 1688 (outside Australia)
OR send us your enquiry
KLINGER MAXIFLEX SPIRAL WOUND GASKET
Spiral wound gaskets combine the ease of sealing of a graphite, PTFE or mica filler with the strength afforded by a specially profiled metallic, spring-like reinforcement. The sealing element is manufactured by interleaving plies of alternating metallic winding strip and filler to create a gasket that is robust and easy to install.
Spiral wound gaskets can be manufactured from a wide range of metals to resist against chemical attack and temperature related degradation and used in combination with either graphite, PTFE or mica filler.
Creates a very leak-tight, reliable seal.
Suitable for high temperatures and pressures.
Can be manufactured to suit standard flanges and also custom-designed vessels.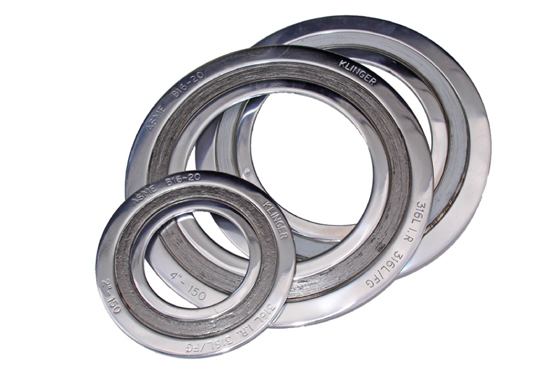 Download Spiral Wound Gasket Product Document
Below you can find more product-related Information for KLINGER Maxiflex spiral wound gaskets, free to access and download.
KLINGER Maxiflex spiral wound gaskets have the ability to recover under the action of fluctuating loads caused by process fluid pressure and temperature changes, flange face temperature variations, flange rotation, bolt stress relaxation and creep. The gasket sealing element consists of a pre-formed metallic winding strip with layers of a softer, more compressible sealing material which, during compression, is densified and flows to fill imperfections in the flange surfaces. The metal strip holds the filler giving the gasket mechanical resistance and resilience.
Maxiflex gaskets are capable of giving an excellent seal over a wide range of flange surface finishes, but as a general guide we suggest under general duties, a flange surface finish of 125-250µin. (3.2-6.3 µm).
KLINGER Maxiflex Spiral Wound Gaskets are manufactured to specifications of ASME B16.20. They are available in a range of configurations and materials. They are suitable to use for flange standards to: ASME B16.5, DIN, BS 10, JIS, AS2129 and customer designs. Below are the most common gasket types:
Type CRIR
Type CR
Type RIR
Type R
Type R Graflex Faced
Type HTX