Get in touch
Call 1300 798 279 (from Australia)
+61 8 9251 1688 (outside Australia)
OR send us your enquiry
gate, globe and check valves
KLINGER manufactures a quality range of gate, globe and check valves to suit various applications.
Our valve specialists will work with you to provide the components you need in quick turnarounds.  In addition to the KLINGER range of products, our team can source a range of additional brands based on the application and specifications.  For more information about our valve packaged service offering visit our project management page.
Gate valves are primarily used to enable or prevent a fluid medium to flow (i.e. ON / OFF control). A fully open gate valve results in no obstruction to the flow path, thus allowing for very low friction losses.
Threaded and flanged gate valve designs
Depending on gate valve design, suitable for water and liquids with abrasive particles, saturated steam, oil, air and gas
Non-rising stem
Flanged gate valve features slider vulcanized with rubber to guarantee tight shut-off
Globe valves are primarily found in fluid regulation applications. Their (semi-) spherical form is comprised of two body halves, separated by an internal baffle. Shutting the globe valve is achieved by means of a disk, which screws into the seat of the battle by means of a handwheel or actuation. As opposed to ball valves, the flow of the medium is not direct and in one direction, instead the fluid enters and rises inside of the body of the valve prior to exiting on the other side.
Wide range of body materials, including cast iron, ductile cast iron, SG-iron steel, and stainless steel
Flanged and threaded globe valve designs
Depending on product type, suitable for a wide range of applications and media, maintenance-free
Cold and hot water, steam, nitrogen oxides, gas, air, oil, chemicals and various acids
Check valves are primarily used to fully close the passage of a circulating (gaseous or fluid) medium in one direction and to simultaneously allow free passage in the other direction. As two-port valves, they feature two openings in the body, one by which the fluid can enter, and one by which it can leave.
Threaded, flanged or closable check valves designs
Depending on the check valve design: suitable for water, non-aggressive liquids and gases, steam, condensate
Depending on the check valve: universal, horizontal or vertical mounting
Bellow valves feature a metal bellows, usually cylindrical in shape, to protect against stem leakage. Functioning like a vertical diaphragm, it seals with the valve stem and the valve body itself. This type of valve is used to minimize air pollution, losses in production, problems in the process and energy losses.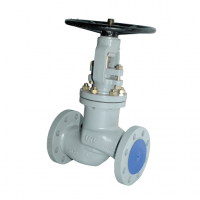 Used in combination with heat transfer media, vacuum, highly hazardous or costly fluids