Get in touch
Call 1300 798 279 (from Australia)
+61 8 9251 1688 (outside Australia)
OR send us your enquiry
GRAPHITE/CARBON
Carbon and Graphite Packings are inert to most chemicals and have low frictional coefficients as well as being capable of being used in both cryogenic and high temperature applications.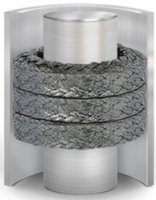 Carbon and Graphite packing yarns are commonly coated with PTFE, colloidal graphite, or other coatings to aid in material handling, braiding and to meet the sealing requirements of specific packing applications.
K35
Manufactured from exfoliated graphite and is available in either adhesive or non-adhesive tape rolls or manufactured into die formed graphite rings.
K3222
Manufactured using expanded pure graphite ribbon yarns with non-metallic reinforcement.
A cost effective general purpose packing for use in non-abrasive applications on pumps and valves within all industries.
K3222W
Manufactured using expanded pure graphite ribbon yarns each incorporating a fine Inconel wire, to produce a valve compression packing of square cross-section with added mechanical strength.
A cost effective high pressure valve packing.
K3222T
Manufactured from exfoliated graphite yarns in rectangular tubular forms, Inconel wire reinforced. It can also be supplied with an adhesive backing strip.
Upon compression will form an endless seal and bend to conform perfectly to any dimension, without waste because of its pure expanded flexible graphite yarn properties. Has very good sealing properties on surfaces that are slightly pitted.
Applications include vessels, tank covers, oven doors, pipes, manholes, hand holes, heat exchangers and boilers.
357
Utilizes a resilient, "springy" carbon centre around which the exfoliated carbon-inserted foil is braided while laying very high strength silky carbon yarn in the corners.
This choice of materials and construction enables the packing to overcome the plating effect, common with exfoliant foils alone. The yarn matrix prevent migration of the foil to the stem or sleeve and improves the actual sealing effect.
Meets requirement of API Standards 622, Process Valve Packing for Fugitive Emissions.
390
Made of high purity carbon yarns having a minimum purity of 96%.
Braided structure is impregnated with dispersion containing very fine graphite.
The finished product is then surface lubricated with propriety high quality sacrificial break in lubricants.
Highly chemically resistant and heat conductive. A very anti-frictional packing effective on the widest variety of services.
396
A dense version of braided flexible graphite with the effective placement of high purity carbon/graphite yarns to resist extrusion and aid in bending around tight radii.
Operates successfully in valves, except knife-gate configurations (consult Klinger) within its established temperature / pressure / pH parameters, one needs only to add additional rings to allow for 396's ability to fill previous scoring.
396C
A patented core of internally–sprung high temperature, high pressure Inconel reinforced graphite packing, over braided with carbon filament inserted exfoliated graphite foil.
Style 396-C is one of the most effectively designed product on the market today for the sealing of fugitive fuel emissions.
Meets or exceeds the requirements of A.P.I. 589, 607 or 622 tests as well as the A.P.I. fire test for soft-seated quarter-turn valves.