Get in touch
Call 1300 798 279 (from Australia)
+61 8 9251 1688 (outside Australia)
OR send us your enquiry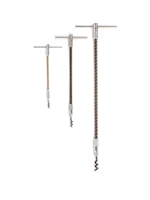 Packing Cutters, Extractors and Tamping Tools.
Packing Cutter Guillotine Type
KLINGER packing cutter is a robust Guillotine type action cutter capable of cutting packings rings to suit shafts or sleeves up to 250 mm (10"). Maximum packing section up to 25 mm (1").
Packing Cutter Pack-Boy
For cutting of soft packings up to 25mm
Packing cross section and packing length relationship as well as parallel-cut packing ends are the basic criteria of packing rings being cut by the PACK-BOY calibrating and cutting tool
Packing Extractors and Tamping Tools
KLINGER has a high quality range of packing extractors for use on pumps, valves and other static applications which have been designed for hard to remove packing which requires a strong pulling action.
The total removal of gland packing from stuffing boxes without damaging the shaft or the stuffing box is important for a successful repack.
Typically stuffing boxes are in awkward positions and the KLINGER flexible extractors make the job easier.
Flexible Packing Tampers are used to pack down newly installed packing.
Deluxe Packing Maintenance Tool Kit
KLINGER deluxe packing tool set includes a comprehensive range of tools that are used in the extraction and replacement of compression packing in pumps and valves.