Get in touch
Call 1300 798 279 (from Australia)
+61 8 9251 1600 (outside Australia)
OR send us your enquiry
"*" indicates required fields
dedicated project management team
Our specialist Project Management Team is dedicated to providing the best service possible to the worldwide engineering and construction industry.
Our strong, global reputation is built from years of experience in manufacturing and supplying quality sealing, fluid control and monitoring products for the domestic and international oil and gas, petrochemical and mineral processing industries.  We continuously invest in plant infrastructure and IoT technology to maintain a high manufacturing capacity.  Our commitment to producing top quality components is evident through our ISO 9001 accreditations.  These manufacturing capabilities enable us to meet the high demands of large-scale EPC business.
Along with superior product technology, our highly experienced engineers, product specialists, operators and professional after-sales service each contribute towards our success.  Our technical expertise is unrivalled, with gasket, valve and instrumentation product specialists on hand to offer advice and recommend the most advanced solutions to meet EPC and project requirements.
Trusted expertise in managing international projects
The Project Management Team manage all aspects of international contractor enquiries, from initial front end engineering design (FEED) through to final project construction and commissioning.  Our team can assist with technical review, material selection, budgetary pricing, scheduling, package tendering, documentation, certification, site training, after sales and set up of local manufacturer or agent services for future supply if required.
We have world-wide experience in the supply of equipment to new and expanding projects, with KLINGER sealing, fluid control and fluid monitoring technology currently in operation across the globe.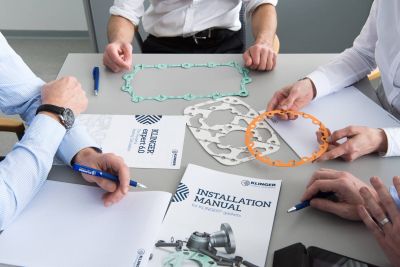 Download the KLINGER Project Brochure
Below you can find more project-related Information.
Get in touch
Call 1300 798 279 (from Australia)
+61 8 9251 1600 (outside Australia)
OR send us your enquiry
"*" indicates required fields