Flame Ionisation Detection
Optical Gas Imaging
Get in touch
Call 1300 798 279 (from Australia)
+61 8 9251 1600 (outside Australia)
OR send us your enquiry
LDAR - leak detection and repair
A leak detection and repair (LDAR) program can help control fugitive emissions caused by equipment leaks. 
Leaking equipment such as valves, pumps and connectors are the main source of emissions of volatile organic compounds (VOCs) and volatile hazardous air pollutants (VHAPs).  These air pollutants typically occur at petroleum refineries, chemical manufacturing and processing facilities. 
VOCs contribute to the creation of ground-level ozone; an environmental pollutant that causes or aggravates respiratory disease in children and adults.  Controlling emissions through an LDAR program can diminish VOC emissions and also lower operating costs due to reduced product loss.
The leader in LDAR and Smart LDAR programs
KLINGER Atmeco provides LDAR and Smart LDAR programs for fugitive emission monitoring and management. Our LDAR professionals complete leak inspections of valves, flanges, pumps, compressors, connectors, sampling connections, pressure relief devices and open-ended lines.  We do this using equipment and procedures that conform to EPA requirements. 
For over two decades, KLINGER Atmeco has serviced clients across Australia and Asia Pacific.  Industries we have helped include upstream energy, mid-stream refining & petrochemical industries and downstream processing plants.  Our LDAR solution fulfills our clients' requirements for asset and facility condition management and compliance to regulatory reporting. 
Our innovative approach to fugitive emission management stems from years of expertise in identifying and monitoring leaks using advanced equipment and technology.  Leaks are generally identified using technology such as Flame Ionisation Detection (FID) and/or Optical Gas Imaging (OGI) that enables real time visualization of gas emissions, not seen by the human eye. Our secure online CIMS database records and compiles data for efficient asset and component condition monitoring.
We can customise our service to provide a Smart LDAR program; a modified approach that provides time saving benefits. Or we can produce a detailed program that meets the highest demands of US EPA standards.  Whatever the scenario, we can adapt our LDAR program to meet the needs of our clients, each facility and the specified geographic EPA standard.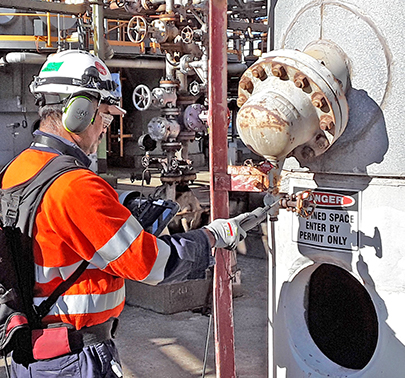 Five elements of an effective LDAR program
Identifying components – through our component ID system, we physically tag each regulated equipment component
Leak definition – CIMS is used to record inventory (log all assets and respective leak-check activity) and produce fugitive emission estimations and reports based on US EPA correlations factors
Monitoring components – through CIMS asset monitoring, tracking and reporting activities
Repair management – active repair and shut down repair categorization, timing and planning is recorded in CIMS
Record keeping – our online CIMS database compiles historical data of all repair activities at the component level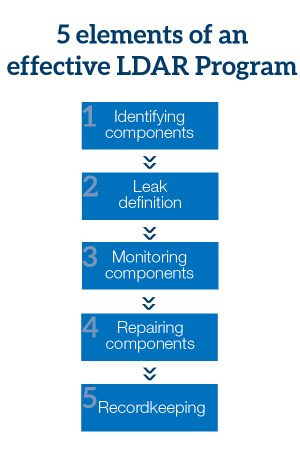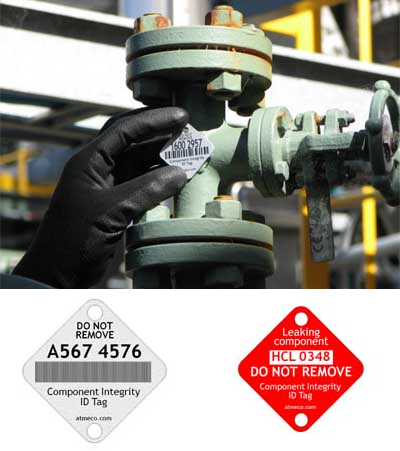 An essential factor of creating an effective LDAR program is maintaining a component ID system.  This underpins all aspects of the program's design, structure, daily operations, remedial response actions, reporting and archiving actions.
The primary benefit of a Component ID system is that a clear and unambiguous field location system is established.  This reduces the risk of inappropriate actions taken on poorly or wrongly identified equipment. Once in place, the ID system provides additional benefits for operational, engineering, reliability and maintenance groups who work at the facility.
Flame Ionisation Detection
Optical Gas Imaging