Get in touch
Call 1300 798 279 (from Australia)
+61 8 9251 1688 (outside Australia)
OR send us your enquiry
METAL SPRAY SHIELD AND FLANGE PROTECTORS
Our range of products for improved safety and protection of assets.
Metal Spray Shields
Manufactured from 316 Stainless Steel they are offered in two configurations.
Style 1 which is a band type with a quick release latch and Style 2 which is manufactured with overlapping, slotted side edges to prevent lateral sprays. The style two is also available with PTFE drains.
The style 2 is also suitable for use on Ball Valves, Butterfly valves, Plug Valves, Check Valves, Gate Valve Bonnets and Globe Valve Bonnets.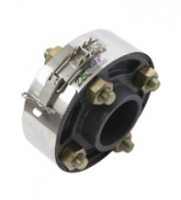 Flange Band Protectors
Designed to cover flanges to protect flange faces, stud bolts, and gaskets from corrosion.
Keeps out moisture, chemicals, saltwater, acid rain, etc.
Keeps out foreign matter, which is critical on systems that are cathodically protected.
Nut and Bolt Caps
Designed to protect hex nuts and stud bolt ends from corrosion, thus allowing easy unbolting.
Eliminates need of a torch for nut removal.
Keeps out moisture, chemicals, salt spray, and paint build up.