Get in touch
Call 1300 798 279 (from Australia)
+61 8 9251 1688 (outside Australia)
OR send us your enquiry
SYNTHETIC FIBER
These compression packings are manufactured from man-made fibers such as Acrylic, Aramid, Ceramic, Glass filament, Polyimide and other high performance materials which are available.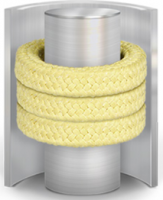 They have been developed as economic yet strong material alternatives for use in the demanding sealing environments within various industries for use in applications such as abrasive slurries, acids and alkalis and where high strength sealing materials are required.
K10
Acrylic yarn and PTFE lubricant
Its low coefficient of friction ensures easy operation and actuation of any valve or pump, without detrimental stem or shaft wear
The PTFE dispersion improves the chemical resistance of acrylic fibre allowing it to effectively seal the majority of chemical media commonly found within today's industrial environments.
K11
Acrylic yarn and graphite dispersion
The additional graphite dispersion and oil provide excellent start-up lubrication and long-term heat transfer away from the shaft and packing , therefore increasing life.
Copes with higher temperature, greater pump speed and pressure capability than similar PTFE versions due to the use of graphite and oil lubrication.
Well suited to a broad range of valve and pump duties where the use of a non-contaminating packing is not important.
K25
High strength Aramid yarn and PTFE lubrication braided to produce a packing for sealing within extreme pumping applications.
Suitable for a wide range of chemicals and heavy slurry applications. Excellent as a bull ring material and in combination with other fibres.
K123
Ceramic yarns are made from silicate fibers with a base core usually of glass fibers.
Ceramic yarns are able to work successfully in extreme temperatures in the range of 900 to 1200 degrees Celsius and can be reinforced with wire for additional strength. As a packing they are used in oven doors, furnaces and valve packing applications.
K4303
Constructed from Glass yarns as the base fibre and "PTFE" as the lubricant.
Suitable for use in a wide range of chemicals in combination with slurry applications.
It is also treated with a synthetic lubricant which provides excellent heat transfer and lubricating properties to the packing for extended packing life and less shaft scoring.
K7302DL
Braided from virgin texturized continuous filament man-made fibres, impregnated with our proprietary Doulon® blended oils and special running-in lubricants.
Highly abrasion resistant, it is well suited for heavy duty applications pumping heavy slurries and abrasives in the mining industry. It can be used as anti-extrusion and/or bull rings.
This style provides a very durable and conforming packing with good chemical resistance to meet the most demanding applications.
2000
Made entirely from chemically resistant thermoplastic proprietary yarn impregnated with a dispersion of PTFE and inter braided for structural strength.
It is the very finest non-staining, light coloured, non PTFE, high tensile, low elongation yarn on the market today.
A clean packing for acids and caustics and any application needing chemical resistance and/or non-contamination of product.
Much "easier" on shafts than other light coloured synthetics and highly suited for use in heavy slurries within the mining and Alumina Refining Industries Especially Caustic slurries.
FIBRE GLASS SQUARE BRAIDED
Glass Yarn braided into square packing for use on Static/door seals in steam boilers, reformers, furnaces, kilns, brick car damper seals, radiant tube packing for heat treat furnaces, thermo couple tubes in heat exchangers, insulation of pipelines, exhausts and pipeline expansions joints.
High temperature valves packing for air, flue gas, and many other applications.