Get in touch
Call 1300 798 279 (from Australia)
+61 8 9251 1600 (outside Australia)
OR send us your enquiry
Insulation Containment Survey
The insulation containment survey is available to clients across all industries where thermal insulation and cladding materials are used.
KLINGER Atmeco's insulation containment survey includes asbestos condition monitoring and  typically covers a range of process assets. These may include mastic covered piping elbows, insulation cladding around pipe runs and process components, pump insulation, column/drum and vessel insulation, insulated component flanges with integral leak check tubes, warning signs at temporary and fixed entry points, warning labels on insulated process components or piping elements.
This survey generally starts with providing a plant wide overview using a 'block-level' or section by section approach to assess the entire plant. The survey results of a block level survey may lead to a more detailed 'component-level' survey.
Our web-based CIMS data management and reporting tool is utilised to gather and manage data collected from insulation containment surveys. When using CIMS for asbestos containing insulation monitoring, the platform is used as a register to identify and quantify ACM as well as outline a safe approach for managing the condition of the asset in compliance with regulatory requirements.
Insulation containment survey - deliverables
Identification of lagging or insulation containing materials, focussing on asbestos risks where relevant
Visual inspection and recommendations on sampling and analysis where necessary
Labelling of asbestos materials
Assessment of the condition of lagging containment
Estimation of the quantities of lagging or insulation containing materials, including asbestos
Reporting on all survey results and associated risk assessment through CIMS
Regular updating of surveys to maintain completeness and currency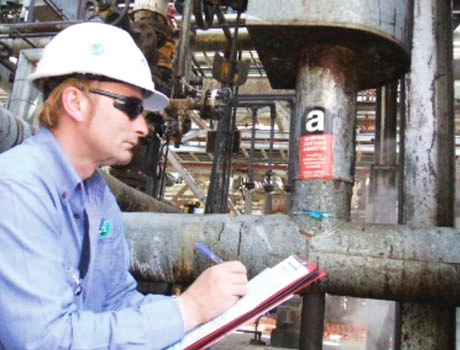 Atmeco works closely with a clients' HSE advisor to design, execute, report and manage asbestos condition surveys to meet regulatory and Australian Work Cover requirements.
Insulation material condition surveys generally result in the classification of insulation into one of three categories; Asbestos Containing Material (ACM), Asbestos Free Material (AFM) and Suspect Insulating Material (SIM).  Location based risk assessments, hazard ratings and related remedial action recommendations for asbestos containing materials (ACM) can be conducted, should they be required by clients. Risk assessments and hazard ratings are based on guidelines of Australian Standard AS4360.
KLINGER Atmeco can also complete insulation material sampling, managed on behalf of clients.  Sampling locations and samples are labelled for traceability and audit compliance. Insulation material classification is based on NATA certified laboratory test results and stored for future reference.