Get in touch
Call 1300 798 279 (from Australia)
+61 8 9251 1600 (outside Australia)
OR send us your enquiry
Airborne Ultrasonic testing for leak detection
KLINGER Atmeco's state-of-the-art ultrasonic technology and survey methodology enables the detection of leaks in a wide range of in-scope process components within a relatively short period of time. 
Our technology allows easy and smooth 'in-field' switching between air-borne (external) leak detection and structure-borne (internal) leak detection.
Leak points can be as small as a pin hole in a pipe weld, a leaking instrument fitting or a passing valve. This technology can detect ultrasonic sound energy across an orifice, generated by the pressure drop of a gas or multiphase fluid.
Unaffected by weather conditions, this technology is regularly used to survey offshore or exposed process assets where high wind or rain may limit FID or OGI based surveys. 
Key benefits of Airborne Ultrasonic testing for leak detection
highly portable, allowing surveys to be conducted in typically hard to reach areas by using scaffolding or other temporary means of access
intrinsically safe and not affected by weather, enabling leak detection surveys to be completed under a cold work permit, in high wind and high ambient temperature conditions (eg. Fin Fans)
improves detectability of any potential leak source when combining with FID & OGI technologies
used for leak surveys when other leak sensing technologies cannot be used
no interference with existing site-based alarm and control systems.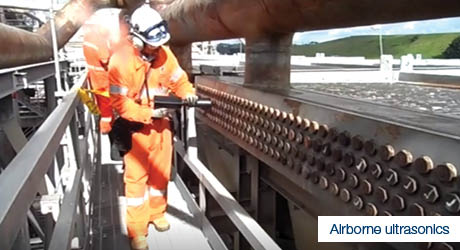 Applications of Airborne Ultrasonic testing
locating hydrocarbon and non-hydrocarbon leaks to atmosphere and leaks across normally closed valves
integrity surveys of potential leak sources on heat exchangers, distillation columns, centrifugal pumps, control valves, block valves, pressure & safety relief valves, pressurised vessels, vacuum systems, and similar
integrity surveys of potential leak sources in diverse equipment, including non-hydrocarbon systems such as refrigeration, nitrogen and other inert gas systems.
detection of compressed air leaks or nitrogen leaks during pre-start-up leak checks where conventional tape & snoop gross leak checks are ineffective and inefficient
system leak integrity testing using inert or non-hydrocarbon gases during start-ups
detecting leaks from process utility systems such as instrument air supply and steam systems, which prove to be a cost effective energy improvement initiative
regulatory compliance applications including process safety leak risk management and environmental compliance fugitive emissions leak detection and remediation (LDAR) programs.
Get in touch
Call 1300 798 279 (from Australia)
+61 8 9251 1600 (outside Australia)
OR send us your enquiry